Wood Shutter Manufacturing & Blinds of any Design
We're based in Payson Arizona Offering service
State wide ...
I wanted to offer this site to any one who wants to see the
vast diferences in interior window treaments that are
available all over Arizona.We will ship too with
the very best technical suport
..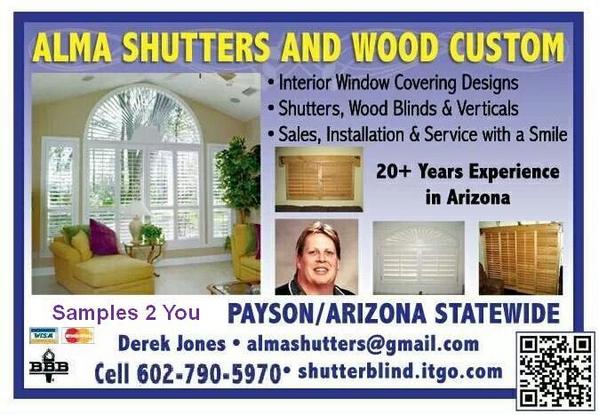 The shutters built in stain, smooth paint, and sandblasted
paint in 2"3"&4" louvers. Bl Chalet
There are many choices of framing also.
Other lines Of blinds are Century,Veina,
Hunter Douglas,siluetts,Duetts,
Vinyetts, ACME & Verticals
Feel free to call us and our Contact Information
I have over 25 years experience in order placement and assisting color and texture choice , markiting and installation of fine window products. 604 N. Snead Dr Payson Az.85541
Mobile Office and email; dukeest@msn.com
6027905970
www.facebook.com/alma.shutters?fref=ts&ref=br_tf

Recient Work in Payson Az
http://www.messingermortuary.com
/html/locations_directions.html
Also find us at .... www.localfirstaz.com
Wood Shop and photo page
www.manta.com/

1998 was the first Year in my own Biz
We do our installs all over the state of Arizona
interior designers use our services aswell on
most installs of cornices,valances,draperies,shutters,blinds,cell shades and verticals..
Contact us